In Die in a Gunfight, Mary (Alexandra Daddario) and Ben (Diego Boneta) are the star- crossed black sheep of two powerful families engaged in a centuries-long feud – and they're about to reignite an affair after many years apart. Their forbidden love will trigger the dominoes that will draw in Mukul (Wade Allain-Marcus), Ben's best friend, who owes him a life debt; Terrence (Justin Chatwin), Mary's would-be protector-turned- stalker; Wayne (Travis Fimmel), an Aussie hit man with an open mind and a code of ethics; and Wayne's free-spirited girlfriend, Barbie (Emmanuelle Chriqui). As fists and bullets fly, it becomes clear that violent delights will have violent ends.
DIRECTOR'S Q&A WITH COLLIN SCHIFFLI
Q) How did you become attached to the film?
My first feature, Animals, premiered at the SXSW Film Festival and the lead actor, David Dastmalchian, had introduced me to a writing duo that he was working with on Marvel's Ant-Man. This pair was Andrew Barrer and Gabe Ferrari. Lucky for me, they liked my movie and were excited to discuss Gunfight. I jumped at the chance to direct it.
Q) Where was the inspiration for the animation at the beginning of the film?
We had reached a point in the editing phase where we felt the need to elaborate on character backstories, which in earlier drafts of the script had been present. We wanted to revisit this in a unique way. My favorite aspect of this film is that it leans into so many familiar "cinematic movie tropes" in a very tongue-in-cheek manner – narration, split screen, freeze-frames, character title cards…why not add animation? It was the icing on the cake for our self-aware love letter to cinema.
Q) What did cinematographer Magdalena Gorka bring to the stylized look of the film?
I really wanted this film to feel cinematic and stylized, but also intimate and personal. Much of that had to be accomplished via the cinematography. Magdalena was able to walk that line the entire movie. It feels very tangible and visceral, and yet it also looks like a hyper-real reality. She's masterful with her use of color and light to balance that tricky tone.
Q) Because of how specific the narration is to driving the story, did you talk much with cowriters Andrew Barrer and Gabriel Ferrari either before or during the making of the film?
This story captures the voice of Andrew and Gabe on many levels, and I was eager and fortunate enough to collaborate with them every step of the way, especially in regards to the playful narration. I even had them on set every day to brainstorm on the fly. If something wasn't working with the material, the actors and I could pop right over to them and make adjustments. They knew their script and characters so well they would literally have a dozen alternate lines ready to go.
Andrew and Gabe's writing has a lyrical rhythm and very specific wit to it. A day comes to mind when we had news anchors spouting out headlines in a scene. Andrew and Gabe would come up with outlandish, yet thematically poignant, lines to feed to the anchors at a moment's notice – one after another after another. It hit me that the material had been marinating in their weird minds far longer than I could even fathom, and gave me an endless toolbox to choose from daily. This was huge for keeping the tone of this film consistent.
Q) How important was the casting of Diego Boneta and Alexandra Daddario in the lead roles?
The two leads are the foundation of this love story. If the chemistry between these characters did not work, the movie would fall flat. On top of that, I did not want it to seem like they were just young, star-crossed lovers who had not experienced life. We wanted actors that could bring a worldly, mature view to the characters. Diego and Alex encompassed those sophisticated traits and were able to add many layers to Ben and Mary.
Q) What was the vibe on set while making the film with the entire ensemble cast besides Diego and Alexandra, with supporting roles from the likes of Travis Fimmel, Emmanuelle Chriqui, and Justin Chatwin?
The world of Gunfight is so playful and colorful, it was crucial to cast the roles with equally colorful and dynamic actors. I cannot express enough how much fun we all had letting each other experiment, improvise and explore bold choices. We pushed ourselves to be larger than life. It was like being on the playground with all the cool kids. I never knew what they were going to do. Travis Fimmel was like a wild animal that I would unleash, knowing that I was about to capture lightning in a bottle and/or destroy our entire set. Yet it was always in service of the story. I was jumping for joy when, to everyone's surprise, he kissed Diego on the lips in a take – something that
was not scripted, but I couldn't have asked for a better improvisation. Emmanuelle would make Travis melt with nearly every line she delivered, which was beautiful to see considering how commanding Fimmel's presence was. Justin Chatwin had the entire crew crowding around the monitors far too often with his character's epic meltdown moments that never get old to watch. I had plenty to work with in the edit.
Q) What do you think about the references to "modern-day Romeo and Juliet," since the film does have a similar feel but definitely goes down its own path?
I've always enjoyed stories about young love, and the complications that come with it. Romeo and Juliet is so iconic that there was something comforting about allowing our film to rest on the shoulders of such a familiar story, knowing that we could break all the rules and still have that solid foundation.
Q) Who would you identify as the core audience for the film?
This film is for anyone that wants to experience (or re-experience) that rush of adrenaline that comes with young love! Particularly, but not limited to, young adults, teens, and 20-somethings that are looking for that jolt of frenetic and edgy eye candy! And cinema lovers of all ages.
CAST BIOGRAPHIES
ALEXANDRA DADDARIO (Mary Rathcart)
ALEXANDRA DADDARIO garnered critical, fan, and viral attention with her breakout role in the first season of Emmy®-nominated HBO series "True Detective" alongside Woody Harrelson and Matthew McConaughey. She also starred in the Warner Bros/New Line epic summer blockbuster San Andreas opposite Dwayne Johnson, which grossed over
$470M worldwide. The sequel, San Andreas 2, will feature Daddario at the forefront again for an action-packed sequel.
This July, Daddario will star alongside Connie Britton and Sydney Sweeney in the HBO limited series "The White Lotus." Written and directed by Mike White, the six-part series is set at an exclusive tropical resort and follows the exploits of various guests and employees over the span of a week.
Most recently, Daddario starred in Lost Girls and Live Hotels, directed by William Olsson; Night Hunter, opposite Henry Cavill and Ben Kingsley; and Michael Bay's pandemic thriller, Songbird. She also starred in Can You Keep a Secret? , based on The New York Times bestseller by Sophie Kinsella, for which she served as executive producer (Daddario stars as Emma Corrigan opposite Tyler Hoechlin).
Additional film credits include the drama thriller We Have Always Lived in the Castle, which debuted at the Los Angeles Film Festival last September; Lost Transmissions, with Juno Temple and Simon Pegg; We Summon the Darkness, with Keean Johnson and Maddie Hasson; and When We First Met, in which she starred opposite actor/co-
writer Adam Devine. Daddario reteamed with Dwayne Johnson in Paramount's Baywatch, which hit theaters May 25, 2017, and also starred in The Layover, directed by William H. Macy. Other film credits include: the Lionsgate film adaptation of Nicholas Sparks's The Choice (2016); Joe Dante's Burying the Ex, which originally premiered at the 2014 Venice Film Festival; Lionsgate's Texas Chainsaw 3D (2013); The Farrelly Brothers' Hall Pass (2011); Bereavement (2010); The Attic (2007); The Babysitters (2007); The Hottest State (2006); and The Squid and the Whale (2005).
On TV, Daddario was a series regular in the CBS All Access series "Why Women Kill." Other TV credits include "New Girl" (2014), "Parenthood" (2011-2012), "White Collar" (2009-2011), "Law & Order: Criminal Intent" (2005-2009), "Nurse Jackie" (2009), "Damages" (2009), and "The Sopranos" (2006). Daddario got her start on "All My Children" (2002-2003).
Upcoming projects include 1 Night in San Diego, San Andreas 2, and Happy Life.
Daddario was named one of Marie Claire's "Fresh Faces" in May 2017, and ranked #4 on IMDb's list of Top 10 Stars of 2017.
A New York City native, she currently resides in Los Angeles, CA.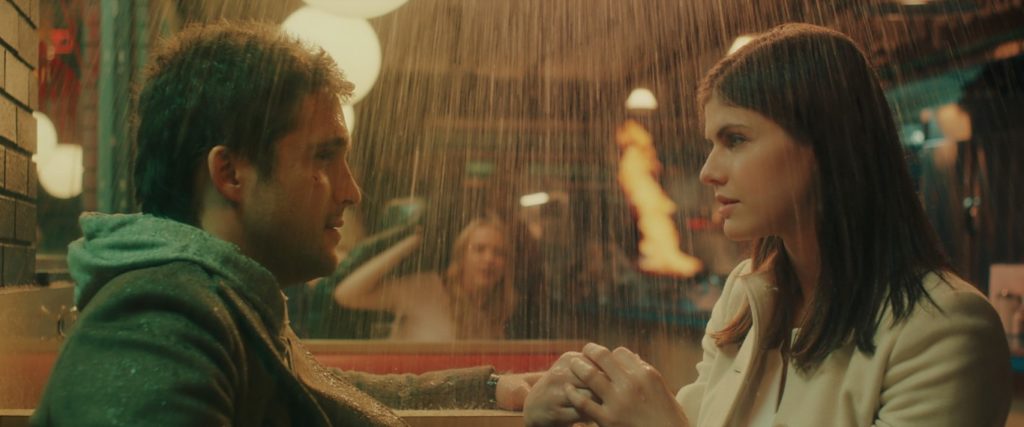 DIEGO BONETA (Ben Gibbon)
DIEGO BONETA is quickly emerging as one of Hollywood's brightest young talents, not only excelling in Hollywood, but similarly with Spanish audiences. And, after being named one of the Los Angeles Times' "Faces to Watch" and being featured in Bruce Weber's new "Rising Star" campaign in the same year, Diego's trajectory shows no sign of slowing down.
Diego was most recently seen in the Sony film Monster Hunter, starring alongside Mila Jovovich and T.I. Prior to that, he starred in Terminator: Dark Fate, directed by Tim Miller (Deadpool) and produced by James Cameron, which debuted in November 2019. Diego can currently be seen in the hit Netflix series "Luis Miguel: The Series" where he not only stars, but executive produces as well. The show is one of the most successful international shows for Netflix, and returned for Season 2 in April 2021. Diego also appeared in the 2020 dystopian thriller film New Order, directed by Michel Franco. The film premiered at the Cannes Film Festival and won the Silver Jury Prize at the Venice Film Festival.
Diego was part of the Fox horror-comedy series "Scream Queens," costarring Emma Roberts, as well as Imagine Entertainment's Pelé: Birth of a Legend, opposite Vincent D'Onofrio and Rodrigo Santoro, where he played Jose Altafini, Pelé's arch-rival (and the one ultimately responsible for assigning Pelé his iconic nickname). Diego has also been seen in the Voltage Pictures thriller Eden; Pantelion Films' Summer Camp, directed by
Alberto Marini; the CBS miniseries "The Dovekeepers," produced by Mark Burnett and Roma Downey (which sustained an astounding nine million viewers); and MTV Productions' "Underemployed."
Not taking the traditional path to Hollywood, Diego got his start on Spanish-language television series, eventually working his way to American television with roles on "90210," "Pretty Little Liars," and the made-for-TV movie Mean Girls 2. However, Diego truly broke through in 2012's Rock of Ages (New Line's musical adaptation) opposite Tom Cruise, Catherine Zeta-Jones, and Paul Giamatti, among other stars. The role earned him both CinemaCon's 2012 "Rising Star of the Year" award and an ALMA Award for Favorite Movie Actor.
Diego began his acting career at the age of 12 when he participated in "Código FAMA," a Mexican reality series featuring child singers. After finishing in the Top 5 on the show, he landed his first television role starring as Ricardo on "Alegrijes y Rebujos," which also had a musical group attached to the series. With his involvement in the show's musical group, Diego was nominated for the Best Children's Group at the Latin GRAMMYs® in 2004. He was nominated for his second Latin GRAMMY® in 2005 for the soundtrack of "Misión S.O.S. Aventura y Amor." Diego was also featured on "Rebelde," which became one of the most popular, longest-running telenovelas across Latin America.
In 2005, Diego released his debut album, Más Diego, on Universal Music (distributed throughout Mexico). The album led to two Top 10 hits in Mexico, and achieved gold status in Chile and Brazil. He also toured with the "Rebelde" musical group – RBD – throughout Latin America, Europe, and the U.S.A. as a solo artist, and was nominated for Best New Artist at the 2006 MTV Awards Latin America. In 2008, Diego executive produced his second album, Indigo, and wrote nine of its 11 songs. Indigo reached gold status within a month of its release.
JUSTIN CHATWIN (Terrence Uberahl)
JUSTIN CHATWIN is most recently filmed the second season of Netflix's drama series, Another Life. Prior to that, Justin appeared on the BBC America hit series "Orphan Black," in which he played savvy drug dealer, Jason Kellerman. He also starred opposite Virginia Madsen in the CBS event series "American Gothic," a murder-mystery from Steven Spielberg's Amblin Television, and joined Peter Capaldi and the cast of the legendary BBC series "Doctor Who" as the lead on their hugely successful 2016 holiday special that was seen by global audiences around the world. Chatwin is perhaps best known on the small screen for his role as "Jimmy/Steve" on the critically-acclaimed Showtime drama series "Shameless," where he starred for four seasons. Chatwin first garnered recognition for his starring role in the in the USA miniseries "Traffic," directed by Stephen Hopkins. Based on his performance in the program, Newsweek magazine
singled him out as an "Actor to Watch." Additional television credits include roles on "Lost" and "Weeds."
Justin can also be seen in the Sony Crackle film In the Cloud, directed by Robert Scott Wildes, as well as in the quirky comedy Unleashed opposite Kate Micucci, Steve Howey, and Sean Astin. Justin's additional film credits include the following: the romantic comedy The Scent of Rain and Lightning with Maika Monroe, Maggie Grace, and Will Patton; We Don't Belong Here, in which he stars alongside Catherine Keener, Anton Yelchin, Cary Elwes, and Maya Rudolph; No Stranger Than Love with Alison Brie and Colin Hanks; Urge with Pierce Brosnan and Ashley Greene; CHIPS with Dax Shepard and Michael Peña; Bang Bang Baby (TIFF, 2014) with Jane Levy; Funkytown, where he stars opposite Patrick Huard and Paul Doucet; Dragonball Evolution, the film adaptation of the Japanese manga phenomenon; John Stockwell's romantic comedy Middle of Nowhere, also starring Susan Sarandon and Eva Amurri; The Invisible, with Marcia Gay Harden; Steven Spielberg's retelling of the H.G. Wells classic War of the Worlds, in which he starred opposite Tom Cruise and Dakota Fanning; the independent film The Chumscrubber, also starring Ralph Fiennes, Glenn Close, Rita Wilson, and Allison Janney; and Taking Lives with Angelina Jolie and Ethan Hawke.
WADE ALLAIN-MARCUS (Mukul)
WADE ALLAIN-MARCUS is an accomplished writer, director, and actor. French Dirty, which Allain-Marcus cowrote, directed, and starred in, premiered at the 2015 Los Angeles Film Festival and was released on Netflix. As an actor, Wade's had significant roles in the studio films Brooklyn's Finest (Antoine Fuqua, Don Cheadle), Beyond the Lights (Gina Prince-Bythewood, Minnie Driver), and Take Me Home Tonight (Anna Faris, Topher Grace). Most recently, he wrapped work on Collin Schiffli's upcoming feature Die in a Gunfight opposite Diego Boneta and Alexandria Daddario.
Wade can currently be seen in recurring roles as Derek DuBois in HBO's "Insecure" and as Diego in the FX drama "Snowfall." Wade will also be seen in the upcoming HBO Max miniseries "Station Eleven."
BILLY CRUDUP (Narrator)
Equally memorable on the stage and screen, BILLY CRUDUP has earned critical accolades for his performances. Currently he stars as Corey Ellison in Apple TV+'s Golden Globe®-nominated "The Morning Show" alongside Jennifer Aniston, Reese Witherspoon, and Steve Carrell, a role which earned him a 2020 Emmy® Award for Outstanding Supporting Actor in a Drama Series and the Critics Choice Award for Best Supporting Actor in a Drama Series (as well as a Screen Actors Guild Award® nomination). Upcoming, Crudup will star in and executive produce Apple's "Hello Tomorrow!", which centers around a group of traveling salesmen hawking lunar timeshares.
Recently, Crudup starred in the film adaptation of Maria Semple's novel Where'd You Go, Bernadette alongside Kristen Wiig and Cate Blanchett, and in Bart Freundlich's After the Wedding with Julianne Moore and Michelle Williams.
Crudup has previously starred in Ridley Scott's Alien: Covenant along with Michael Fassbender and Katherine Waterston, and in Netflix's psychological thriller "Gypsy" opposite Naomi Watts. He appeared in Jackie opposite Natalie Portman; Zack Snyder's Justice League with Henry Cavill, Ben Affleck, Gal Gadot, and Jason Mamoa; 20th Century Women alongside Annette Bening, Elle Fanning, and Greta Gerwig; Spotlight, for which he won the Screen Actors Guild Award® for Outstanding Performance by a Cast in a Motion Picture (the film also won the 2015 Academy Award® for Best Picture); Youth in Oregon, which debuted at the 2016 Tribeca Film Festival; and IFC Films' The Stanford Prison Experiment, which is based on the landmark experiment conducted at Stanford University in the summer of 1971.
Crudup made his motion picture debut in Barry Levinson's Sleepers, starring with Robert De Niro, Brad Pitt, and Jason Patric, followed by Woody Allen's Everyone Says I Love You and Pat O'Connor's Inventing the Abbotts. Crudup also played the lead role in the critically acclaimed Without Limits, the story of legendary long-distance runner Steve Prefontaine, for which he won the National Board of Review Award for Breakthrough Performance of the Year. He then starred in the critically acclaimed Jesus' Son opposite Samantha Morton, Holly Hunter, and Denis Leary, which earned him an Independent Spirit Award nomination, and reunited with Jennifer Connelly in the acclaimed Waking the Dead. Crudup also starred in Cameron Crowe's Academy
Award®-winning Almost Famous along with Frances McDormand and Kate Hudson.
Crudup's other film credits include: 1 Mile to You, based on Jeremy Jackson's novel Life at These Speeds; Noah Buschel's Glass Chin; William H. Macy's directorial debut Rudderless; Guillaume Canet's Blood Ties, opposite Clive Owen; the box office hit Eat Pray Love, starring alongside Julia Roberts, Javier Bardem, and James Franco; Michael Mann's Public Enemies alongside Johnny Depp and Christian Bale; Zack Snyder's Watchmen, opposite Patrick Wilson; Charlotte Gray with Cate Blanchett; Tim Burton's fantasy tale Big Fish, also starring Ewan McGregor, Helena Bonham Carter, and Albert Finney; Stage Beauty, opposite Claire Danes; Trust the Man with Julianne Moore; J.J. Abrams's Mission: Impossible III, opposite Tom Cruise; and Robert De Niro's The Good Shepherd alongside Matt Damon and Angelina Jolie.
On stage, Crudup recently starred in the one-man play Harry Clarke at the Vineyard Theatre, for which he won an Outer Critics Circle Award, Off-Broadway Alliance Award, Lucille Lortel Award, and Obie Award, and garnered nominations for Drama League Award and Drama Desk Awards. Crudup also starred in the repertory productions of No Man's Land and Waiting for Godot on Broadway, opposite Ian McKellen, Patrick Stewart, and Shuler Hensley. In 2007, Crudup won a Best Actor in a Featured Role – Play Tony
Award for his role in the Broadway production of The Coast of Utopia. He also received Tony nominations for his roles in The Elephant Man, The Pillowman, and Arcadia.
Crudup made his Broadway debut as Septimus Hodge in Tom Stoppard's Arcadia, directed by Trevor Nunn, which won him several awards, including the Outer Critics Circle Award for Best Debut Performance and a Theater World Award. He was also honored with the Clarence Derwent Award from Actor's Equity for Best Supporting Male Actor.
Crudup's other stage credits include: William Inge's Bus Stop and the Roundabout Theater's production of Three Sisters, which earned him a Drama Desk nomination. He has appeared in Oedipus with Frances McDormand, starred in the New York Shakespeare Festival production of Measure for Measure at the Delacorte Theater in Central Park, and starred in the off-Broadway run of The Resistible Rise of Arturo Ui opposite Al Pacino and Steve Buscemi.
Crudup received his Masters of Fine Arts from New York University, and also attended the University of North Carolina at Chapel Hill. He resides in New York City.
EMMANUELLE CHRIQUI (Barbie)
EMMANUELLE CHRIQUI can currently be seen as Lana Lang on the CW's "Superman and Lois." She recently starred on Fox's "The Passage" as Dr. Lila Kyle alongside Mark- Paul Gosselaar, in the drama following a botched U.S. government experiment which turned a group of death row inmates into highly infectious vampires.
Chriqui's other television credits include Hulu's "Shut Eye" opposite Jeffery Donovan and KaDee Strickland, Fox's "The Grinder" with Rob Lowe, TNT's "Murder in the First" with Taye Diggs, CBS's "The Mentalist," Crackle's "Cleaners" (which she also executive produced), and Showtime's "The Borgias." She has also voiced roles for Cartoon Network's "Beware the Batman" and "Thundercats" and Disney XD's "TRON: Uprising."
Chriqui is widely known for her role as Sloan on HBO's "Entourage," and reprised her role for the full-length feature film of the same name. Her other movie credits include Netflix's The Knight Before Christmas, Fox Searchlight Pictures' Super Troopers 2, Sony Pictures Releasing's Cadillac Records, Columbia Pictures' You Don't Mess with the Zohan, and Lionsgate Films' In the Mix.
Her independent film features include The Steps, opposite Jason Ritter and James Brolin; Hospitality; 7 Splinters in Time; and Ridley Scott's Killing Jesus (for National Geographic).
TRAVIS FIMMEL (Wayne)
TRAVIS FIMMEL can currently be seen starring in Ridley Scott's "Raised by Wolves" for HBO Max. The series is in production on its second season, and in its first season emerged as the top original performer on the streamer. (He was nominated for a 2020 Critic's Choice Super Award for his role as Marcus in the series.) Fimmel is best known for playing the lead role of Ragnar for four seasons in the History Channel's hit original series, "Vikings." His performance in the second season landed him on Variety's Emmy® Contenders short-list, and his final season – which aired in late 2016 – earned Fimmel equal critical acclaim.
Fimmel recently wrapped the indie film One Way, also starring Kevin Bacon, Storm Reid, and Colson Baker. Additional film credits include the A24 film Lean on Pete opposite Chloe Sevigny, Steve Buscemi, and Charlie Plummer; Dreamland with Margot Robbie; Danger Close, a drama based on the real-life story of Australian and New Zeeland soldiers at the Battle of Long Tan during the Vietnam War; the romantic comedy Maggie's Plan, alongside Julianne Moore, Ethan Hawke, and Greta Gerwig; Warcraft for Legendary Pictures/Universal, which amassed more than $450 million worldwide; Needle with Ben Mendelsohn; Restraint opposite Teresa Palmer and Stephen Moyer; The Experiment with Adrien Brody; The Baytown Outlaws, starring Billy Bob Thornton; and Harodim, opposite Peter Fonda. In 2009, he starred opposite the late Patrick Swayze on A&E's drama series "The Beast."
Fimmel is a native of Echuca Victoria, Australia.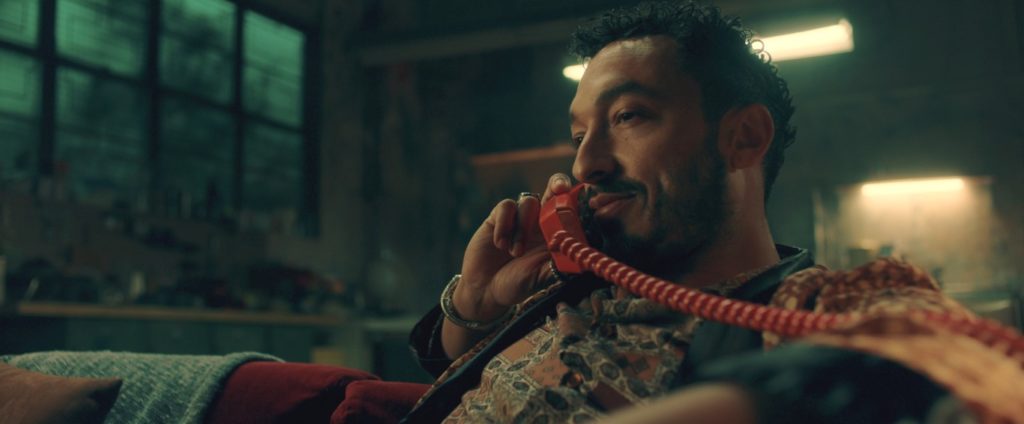 FILMMAKER BIOGRAPHIES
COLLIN SCHIFFLI (Director)
COLLIN SHIFFLI was born and raised in Fort Wayne, Indiana. From an early age, he developed a passion for art and storytelling. Collin graduated with a Bachelor of Arts in Film Directing from Columbia College Chicago and currently works as a director in Los Angeles. His feature directorial debut, Animals, was nominated for a grand jury award at the 2014 SXSW Film Festival (and was distributed by Oscilloscope Laboratories and Showtime). Collin's follow up feature, All Creatures Here Below – starring Karen Gillan, David Dastmalchian, Jennifer Morrison, and David Koechner – was released by The Samuel Goldwyn Company in 2018 to critical acclaim, including a New York Times Critics Pick.
ANDREW BARRER & GABRIEL FERRARI (Writers)
ANDREW BARRER and GABE FERRARI are BFFs and writing-producing partners who hide from the horrors of the real world by constructing fortresses made of pure fiction. Amazon just bought their spec Gods Unknown with the Russos producing, and they're currently negotiating for their new novella Young Blood, currently a Kindle #1 bestseller, that the guys will adapt as a feature. Additionally, in the last 18 months they
have written Transformers: 1 for Paramount and director Josh Cooley; Down Under Cover for Paramount and the Russos, with Chris Hemsworth and Tiffany Haddish starring; Arachnophobia for Amblin and James Wan; Wind in the Willows for the Russos and MGM; and No Exit for Scott Frank and Fox. They are best known for having written the Ant-Man films for Marvel. They hope you like the movie.