Are you ready for Fall Fashion? Then you shouldn't miss the chance to explore a stunning design that has taken the world by storm – the Angel Wing Dress! This ethereal and enchanting style is making waves in the fashion industry, with numerous designers flocking to create versions of this famous silhouette. And it's not hard to see why – the Angel Wing Dress embodies feminine grace and sophistication.
To learn more about this coveted trend, we turn to two professional fashion models who are experts in the industry. Erica Epps and Ebony Iman are at the top of their game, regularly strutting down the runways in some of the hottest designer pieces. Now, they share why they adore Angel Wing Dresses and why you should too!
Unmatched Elegance
Erica Epps believes the Angel Wing Dress is one of the most elegant designs ever. "When I wear an Angel Wing Dress, it feels like I'm ready to conquer the world," she says. "The flowy fabric and the dramatic shape of the sleeves give an ethereal look while still making the wearer feel powerful."
Indeed, the flowing fabric and airy silhouette of the Angel Wing Dress create a sense of movement and fluidity unmatched by other fashion styles. The dress can be made from different materials, from lightweight chiffon to luxurious silk, making it a versatile option for any occasion. And the angelic wings extending from the shoulders give a unique and striking touch that elevates the dress to a new level.
Ebony Iman agrees that the Angel Wing Dress creates a regal and polished look. "I love how the dress gently skims over my curves and accentuates my body while still feeling effortless," she shares. "It's a perfect balance between elegance and comfort."
Ideal for Fall Weather
For Fall Fashion, the Angel Wing Dress is an excellent choice for many reasons. Firstly, the dress's long, flowy sleeves provide coverage and warmth, making it a practical piece for the cooler temperatures of autumn. "I always feel comfortable and cozy in my Angel Wing Dress, even if it's chilly outside," Erica Epps notes.
Furthermore, the Angel Wing Dress can be styled in many ways to suit any occasion or setting. Pair it with ankle boots or sneakers for a casual day of running errands, or dress it up with stilettos and statement earrings for a formal event. The dress is also versatile enough to transition from day to night effortlessly.
Erica Epps advises experimenting with different accessories to create a unique and personal look. "I love wearing statement jewelry and a belt with my Angel Wing Dress to cinch in at the waist and show off my figure," she shares. "But you can also wear it with a denim jacket and sneakers for a more laidback look."
A Symbol of Strength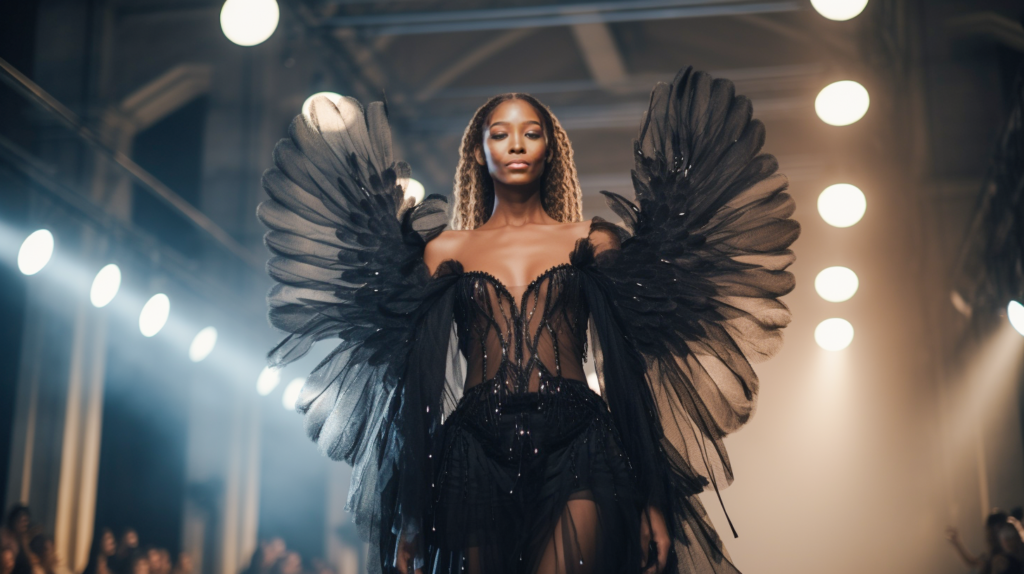 In addition to its glamour and practicality, Ebony Iman believes that the Angel Wing Dress symbolizes strength and resilience. "The wings on the dress symbolize freedom and hope," she explains. "When I wear an Angel Wing Dress, I feel like I can conquer anything life throws at me."
The Angel Wing Dress has become famous for many activists, artists, and people who want to express their cultural or spiritual beliefs through fashion. The wings on the dress can represent a guardian angel or a symbol of spiritual protection.
Erica Epps says the dress also symbolizes inclusion and diversity. "The Angel Wing Dress can be worn by anyone, regardless of their skin color, age, or body type," she says. "It celebrates diversity and empowers people to express themselves in unique ways."
Final Thoughts
In conclusion, the Angel Wing Dress is not just a piece of clothing – it's a statement of style, grace, and strength. Its flowing fabric, elegant silhouette, and angelic wings make it an ideal choice for Fall Fashion and any other season. With Erica Epps and Ebony Iman as our fashion guiding stars, you will look and feel your best in a stunning Angel Wing Dress!